Lower

cost,

Bigger

 surprise!
Booking various entertainment individually will cost a big sum! Not to worry about over budget anymore! Pixelparty SG came out with various promotion package that not only help to reduce cost but to maximise the fun of your party!
Wait no more!
Contact: 91472426 (Jayden) 
U.P.: $450
Limited SPECIAL Promotion rate: $250 (BEST SELLING)
Choose any 2 + 1 services from the list below:
Balloon sculpting

Face painting

Game hosting

Caricature

Glitter tattoo

Henna Tattoo
Promotion from 1 March 2020 – 1 April 2020!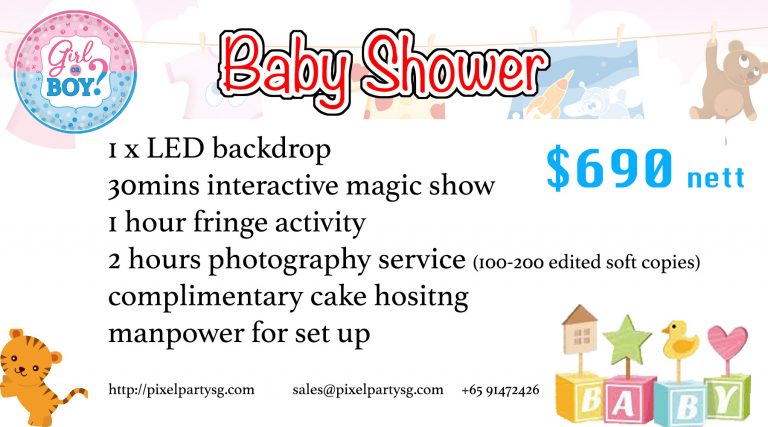 Choose any 1 fringe activity from the list below:
Balloon sculpting

Face painting

30 mins Game hosting with prizes

Caricature

Glitter tattoo

Henna Tattoo
Optional add on:
– Helium balloons
– Dessert table
– Table and chairs
U.P.: $300
Promotion rate: $250 (BEST SELLING)
Choose any 2 services from the list below:
Balloon sculpting

Face painting

Game hosting

Caricature

Glitter tattoo

Henna Tattoo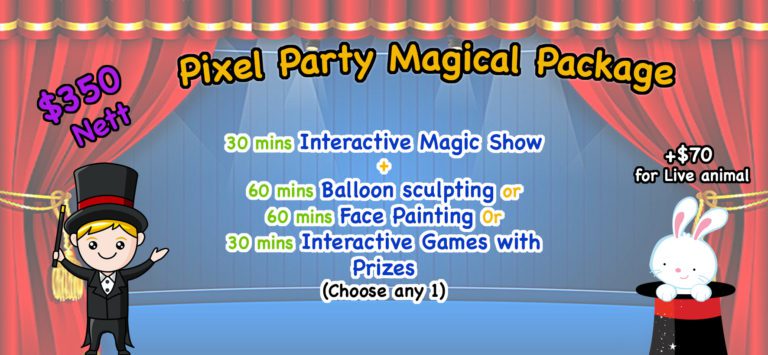 UP: $450
Special rate: $350 (BEST SELLING)
Package come with:
30 mins Interactive kids magic show
Choose any 1 services from the list below:
Balloon sculpting

Face painting

Game hosting

Caricature

Glitter tattoo

Henna Tattoo
* come with cake hosting